2022 Seafood Expo Global/Seafood Processing Global has over 1,500 exhibiting companies at premier event in Barcelona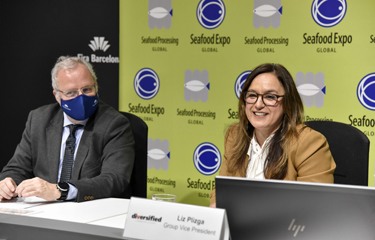 The first Seafood Expo Global/Seafood Processing Global to be held in Barcelona, ​​Spain, will feature more than 1,500 exhibiting companies, event organizer Portland, Maine-based Diversified Communications announced Thursday (March 31). in the USA.
At a press conference in Barcelona, ​​Diversified Communications Group Vice President Liz Plizga said 1,527 companies from 76 countries have already registered for the 2022 event, which will be held April 26-28 in Gran Via exhibition center at the Fira de Barcelona. [Editor's note: Diversified Communications also owns and operates SeafoodSource.]
"We are delighted to be back here at Barcelona. We have been planning this move for many years. And having two years without events has been quite difficult. But we have a lot of enthusiasm to come back and our customers are [excited] for Barcelona," Plizga said.
Plizga said the upcoming event will feature approximately 39,545 square meters of net exhibit space, which is 97% of the size of the 2019 event, which was the largest edition of Seafood Expo Global/Seafood Processing. Overall. That's a solid number considering a reduced presence from China and Ukraine, and the absence of exhibitors from Russia and Belarus, Plizga said.
"The fact that we are 97% in terms of space and size compared to the largest edition without this participation is a true testament to the event and the importance it plays as a platform allowing buyers and sellers to do business and meet face to face. "said Plizga.
The event will welcome thousands of attendees, including hundreds of key buyers representing supermarkets, hypermarkets, restaurants, traders, importers, distributors, wholesalers and hospitality industry representatives. Fifty-nine countries and regions will operate national or regional pavilions. The new exhibiting countries are the Czech Republic, the Falklands, Lebanon and the French island of Reunion.
Over 150 companies are exhibiting at Seafood Expo Global/Seafood Processing Global for the first time, including Balfego & Balfego, SL, Crusta C, Profand Group, SL, Hofseth International AS, Maresmar SLU, Mascato, SA, Mercamadrid, SA, G. Mondini SpA, Grasselli SpA, Mediterranean Shipping Company España SLU and Optimar AS
Long-time exhibiting companies that have confirmed their participation in the 2022 event include AquaChile, CONFREMAR, Congelados y Frescos del Mar SA, Denholm Seafoods Ltd, Frime, SAU, Iberconsa (Grupo Ibérica de Congelados), SAU, Iceland Seafood International, Krustagroup SAU, Sjor AS, Mowi ASA, Nordic Seafood A/S, Baader, Cocci Luciano SRL, Craemer GmbH, FoodTech Belgium, Marel, Palinox Ingeniería y Proyectos SL and Ulma Packaging, among others.
The event will also feature an educational conference covering 20 topics, ranging from panels on seafood industry business and leadership, an overview of the impact of climate change on the industry and an update on the aquaculture feed sector, with 65 international experts presented during the three-day event. And the annual Seafood Excellence Global Awards, which honor the best seafood of the year, will be presented on the first day of the exhibition.
Plizga said the global event will have an estimated economic impact of 100 million euros ($111 million) for Barcelona.
"The expo will have a very positive impact on the local economy and will bring together industry players, seafood buyers and sellers for three days of networking, relationship building, research new products and sharing discussions about emerging trends in the seafood industry. All in one place," she said.
In 2019, Diversified Communications announced that it would move Seafood Expo Global / Seafood Processing Global from Brussels, Belgium, where it had been held for 27 years, to Barcelona. Subsequently, the global COVID-19 pandemic resulted in the cancellation of the event in 2020 and 2021.
"We expect our first fair in this fantastic city to be a success. We chose Barcelona for its size and expertise in organizing international business events, the variety of hotel options and its prominent position in the maritime industry," said Plizga. "Our new partner, Fira de Barcelona, ​​offers a modern and innovative space with extensive experience in working with large-scale events. These are the tools we need to run a successful event and plan for long-term growth.
Fira de Barcelona general manager, Constantí Serrallonga, said Seafood Expo Global's move to Barcelona confirms that the city has become "the epicenter of the food industry".
"We are very pleased to host the first edition in Barcelona of the biggest seafood industry event, which further strengthens Barcelona and Fira as global hubs for international events," he said. declared.
Plizga said Diversified is confident the event will be safe, based on the company's experience successfully hosting the 2022 Seafood Expo North America/Seafood Processing North America in Boston, Massachusetts, United States, in march.
"Diversified has held around 15 events since August 2021, and the lessons are pretty consistent. Before these events, there are a lot of questions and people don't know what to expect. But what happened in Boston was that everyone went to the show, and people were so excited to see old friends being part of the community. They were smiling from ear to ear," she said. "I think the break in face-to-face trade events has given a lot of importance to events as a platform for buyers and sellers to meet and cement buyer-supplier relationships. And those relationships solid foundations established at these events have been extremely important for businesses and buyers to get through the pandemic. It's something people couldn't find online and can't be replaced digitally."