Crypto lender Genesis issued $ 5.2 billion in new loans in Q3
Genesis crypto lending and trading company continues to grow.
The company issued $ 5.2 billion in new loans in the third quarter of 2020, more than double its previous record of $ 2.2 billion in the second quarter, according to a report shared with The Block on Friday.
Genesis began lending operations in March 2018 and has since made loans totaling $ 13.6 billion. The recent growth is driven by an increase in issuance of cash and altcoin loans, Genesis said, as well as a "modest" increase in the notional value of outstanding crypto loans.
Genesis' outstanding active loans increased 50% in the third quarter to $ 2.1 billion from $ 1.4 billion in the prior quarter. Outstanding loans are balances that borrowers are required to repay.
As Genesis makes lending easy, it also allows others to lend through its platform. As of September 30, 2020, Genesis had 165 Unique Lenders, up 47.3% from the previous quarter. "September's total monthly interest payment was over 20% of all interest paid in the past 12 months," the company said.
Genesis added that the growth in bank deposits is helping it as well. "The banks have to give loans somewhere; Blue-chip brokerage clients are great places to deploy excess capital during a pandemic. These clients have historically worked closely with Genesis and are now loaning Genesis excess USD and BTC generated from short CME core trading while also increasing our asset base, "the company explained.
BTC's share decreased
Altcoins and the US dollar fueled Genesis' loan portfolio in the third quarter, not bitcoin (BTC). The company's BTC composition as a percentage of outstanding loans fell sharply in the third quarter to 40.8% from 51.2% in the previous quarter.
"ETH, USD and equivalents and 'other' altcoins drove the book size to increase in the third quarter," Genesis said. "ETH loan stocks jumped to 12.4% of the overall portfolio, the USD rose to 34.5% and other altcoins jumped almost 5.0%."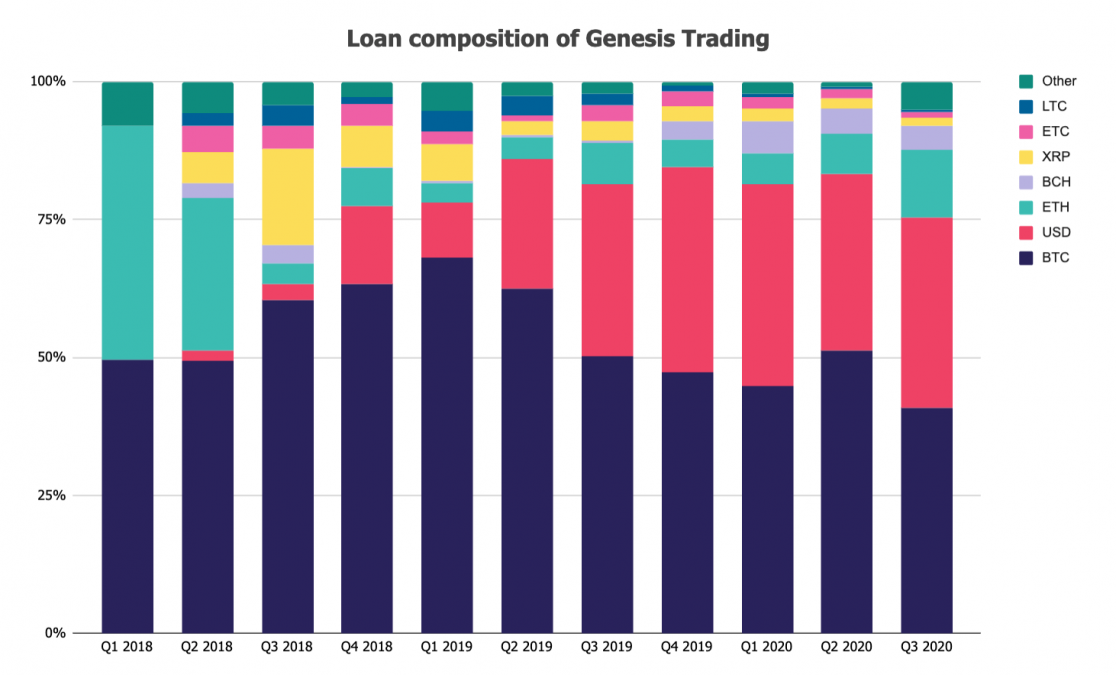 The main driver of this portfolio shift came from the Decentralized Finance (DeFi) boom, according to Genesis, who said: "Our trading counterparties have started actively borrowing ETH and stablecoins to take advantage of mining strategies. of liquidity ".
Genesis also facilitates spot and derivatives trading and these businesses also saw significant growth in the third quarter. The company reported $ 4.5 billion in spot trading volume, up 285% from the same quarter in 2019. On the derivative trading side, Genesis reported total volume of $ 1 billion. dollars, up from $ 400 million in the second quarter when it launched its derivatives trading business. .
While Genesis facilitates most client transactions through its over-the-counter (OTC) office, the company said it has seen steady growth in electronic fulfillment. In September, Genesis executed nearly 30% of all cash trading volume through its new intelligent order routing engine Prime, the company said.
© 2021 The Block Crypto, Inc. All rights reserved. This article is provided for informational purposes only. It is not offered or intended to be used as legal, tax, investment, financial or other advice.