Dine in golden-hued luxury at the Catalan-inspired New Potts Point Fine-Diner Parlar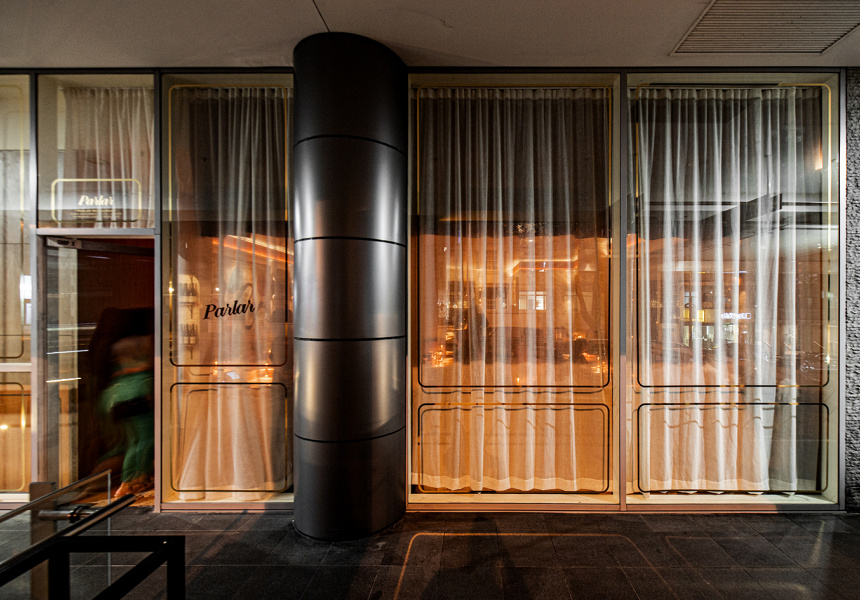 Soft mood lighting, gold-hued marble tables, plush velvet armchairs and Alexander Calder tapestries provide an impressive introduction to Parlar, Sydney restaurateur Andrew Becher's latest restaurant. It's a gastronomic concept that aims to share the cuisine of Catalonia (in the northeast of Spain) with the Sydneysiders, located on Macleay Street, right next to its brother Franca.
"It was really about space," says Becher Large format. "Having Franca next door, when that space became available, was an opportunity to showcase Catalan cuisine, cuisine that I'm really passionate about, but in a fine dining setting, which hasn't really been done in Australia."
The name Parlar, which means "to chat" in Spanish, is a double meaning for English "living room," hinting at the kind of experience Becher hopes to create. With only 55 seats, it is primarily a reservations-only restaurant.
"We want people to reserve their space and really enjoy their time here," says Becher. The ambiance, like at Franca's, is sleazy but luxurious. And the interiors, designed by Joshua Clapp of Steel & Stitch, are warm, welcoming and intimate.
Chef Jose Saulog's menu – who also runs Franca's kitchen and spent two years at the Michelin-starred Lakeside in Hamburg – is based on Australian produce and seafood but with a Catalan twist, using popular techniques from the Iberian Peninsula such as cooking on a Josper charcoal grill.
"Much of the menu is based on sharing and tapas, but uses Australian ingredients with a Spanish interpretation," Saulog explains. There are bacalao (salted cod) croquettes topped with caviar; Wagyu bavette drizzled with Pedro Ximénez sherry; and a charcoal-grilled Catalan seafood platter, which includes lobster with smoked samfaina (the Catalan version of ratatouille) and scampi with sobrasada butter (cured Spanish sausage). There are also salads with cava and a sausage and egg muffin with chorizo ​​and manchego.
Like the food, Alex Raclet's cocktail menu puts a boozy Catalan spin on the classics and champions the fortified wines so popular in the region, like vermouth and sherry.
"It's a modern cocktail menu with Catalan touches on familiar cocktails. We want to make sure everyone can find their favourites," says Raclet. The Riviera – a spritz made with fino sherry, gin, fresh grapefruit and tonic – is a riff on a G&T, while the Twisted Sangria is a refined take on the Spanish classic with tempranillo, cognac, Cointreau, blackcurrant and ginger beer. There are also Spanish wines – especially tempranillo – as well as bottles from the Mediterranean coasts of France and Italy, as well as Australian options.