Earthquake Info: Moderate Mag. 4.2 Earthquake – Eastern Mediterranean, Greece, 58 km southwest of Beykonak, Antalya, Turkey, on Sunday August 7, 2022 at 11:01 a.m. (GMT +3)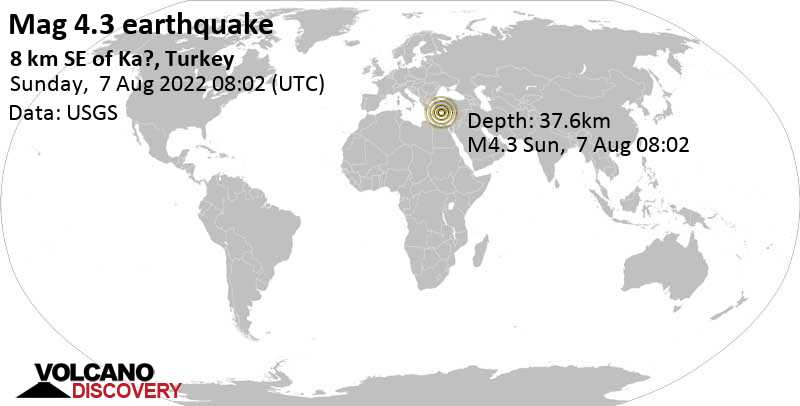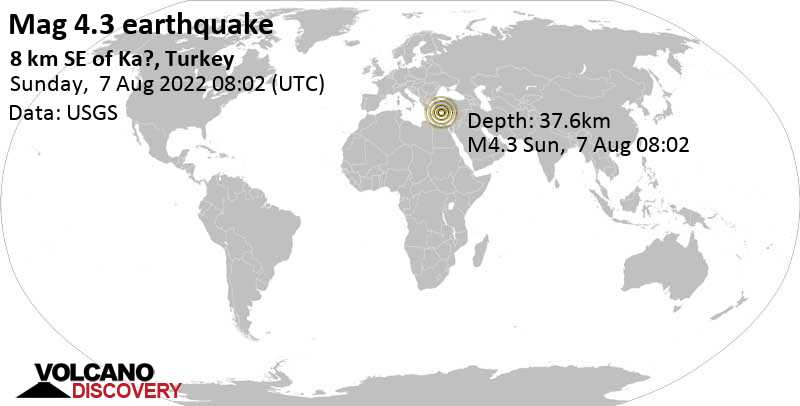 Moderate magnitude earthquake 4.2 at 10 km depth
Aug 7 08:06 UTC: First to report: GFZ after 4 minutes.
August 7 08:08: Magnitude recalculated from 4.5 to 4.3. Hypocenter depth recalculated from 10.0 to 29.0 km (from 6.2 to 18 mi). Epicenter location corrected 3.8 km (2.4 mi) to the NNW.
August 7 08:54: Now uses USGS data updates
Updated Sun 7 August 2022, 08:12
Moderate magnitude 4.3 earthquake 56 km southwest of Beykonak, Turkey
4.3 earthquake August 7 11:02 (GMT +3)
Just 10 minutes ago, a magnitude 4.3 earthquake struck near Beykonak, Antalya, Turkey. The tremor was recorded on the morning of Sunday, August 7, 2022, at 11:02 a.m. local time, at a shallow depth of 29 km below the surface.
The event was recorded by the German Research Center for Geosciences (GFZ), the first seismological agency to report it.
Our monitoring service identified a second report from the RaspberryShake Citizen Seismograph Network which listed the quake at magnitude 4.5. Other agencies reporting the same earthquake include the Euro-Mediterranean Seismological Center (EMSC) with magnitude 4.0 and the National Observatory of Athens (NOA) with magnitude 4.2.
Based on preliminary seismic data, the quake should not have caused significant damage, but was likely felt by many people as a slight vibration in the epicenter area.
Weak tremors could have been felt at Kas (pop. 7,800) located 9 km from the epicenter, and at Demre (pop. 14,400) at 26 km.
Other towns near the epicenter where the quake could have been felt as a very weak tremor include Finike (pop. 9,300) located 41 km from the epicenter, Turuncova (pop. 8,400) 45 km away, Beykonak (pop. 30,300) 56 km away, Elmalı (pop. 16,600) 68 km away, Fethiye (pop. 60,400) 76 km away and Tekirova (pop. 20,000) 82 km away.
VolcanoDiscovery will automatically update the magnitude and depth if these change and will follow up if other major earthquake news becomes available. If you are in the area, please let us know about your experience through our reporting mechanism, online or via
our mobile app
. This will help us provide more first-hand updates to anyone around the world who wants to learn more about this earthquake.
If you were or are still in this area during the earthquake help others with your comments and report it here.
Seismic data
If you felt this earthquake (or if you were near the epicenter),
please share your experience and submit a short "I felt it" report!
Other users would love to hear about it!
If you did NOT feel the tremor
although you're around,
thank you for reporting it
! Your input is valuable to earthquake science, earthquake hazard analysis, and mitigation efforts. You can use your device location or the map to show where you were during the earthquake. Thanks!
Data for the same earthquake reported by different agencies
Info: The more agencies report the same earthquake and publish similar data, the more confidence you can have in the data. It normally takes up to a few hours for the seismic parameters to be calculated with near optimum accuracy.
| | | | |
| --- | --- | --- | --- |
| Mag. | Depth | Location | Source |
| 4.2 | 10 kilometers | 12 km SE of Kaş, Turkey | USGS |
| 4.2 | 10 kilometers | Turkey: 15 km ESE of Megisti (Kastellorizo) | PNA |
| 4.2 | 49 kilometers | WESTERN TURKEY | CSEM |
| 4.2 | 10 kilometers | Turkey | RaspberryShake |
| 4.3 | 21 kilometers | Turkey: BAYINDIR-KAS (ANTALYA) | KOERI-RET™ |
| 4.7 | 13 kilometers | Greece [Sea] | INGV |
| 4.2 | 55 kilometers | Turkey | GFZ |