Growth in the eurozone slowed late last year as the winter wave of Covid-19 hampered recovery, notably in Germany.
Eurozone GDP grew 0.3% in the October-December quarter, much slower than the rapid 2.3% growth recorded in July-September.
The last quarter of the year saw restrictions imposed in some European countries, as the pandemic increased last fall. This has hit companies in the service sector, with the Omicron variant dealing another blow to sectors such as travel in December.
Germany, the largest member of the eurozone, dragged down eurozone growth.
Germany's GDP contracted 0.7% last quarter as its economy suffered from a rise in virus cases and a continued supply chain disruption that held back factories. Restrictions on unvaccinated citizens were introduced in December and some Christmas markets were cancelled.
France rose 0.7% in the last quarter, stronger than expected, and recorded its best annual growth since 1969.
Spain grew by 2%, making it the fastest growing member of the euro zone to report growth figures for the fourth quarter.
And as covered earlier, Italy rose 0.6% in the fourth quarter, while from Portugal GDP increased by 1.6%.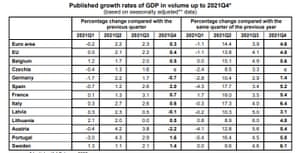 Statistical body Eurostat also estimates that the euro area and the wider European Union grew by 5.2% in 2021 as the region recovers from the deep recession of 2020.
That's almost as fast as the United States, which rose 5.7% last year, its biggest increase since 1984.
We don't have UK GDP figures for the fourth quarter yet.