Welcome to Charts and Caffeine – Livewire's pre-market news and analysis digest. We'll take you through the session overnight and share our best ideas to better prepare you for the day of investing ahead.
MARKET ENVELOPMENT
Note: US stock, bond and commodity markets are closed for the inaugural holiday on June 16.
FTSE 100 – 7,122 (+1.5%)
STOXX 600 – 406.81 (+0.88%)
United Kingdom10 years – 2.604% (+10 bps)
EURUSD – 1.0507
GOLD – US$1841/oz
BRENT BRENT – 114.13 USD/bbl
THE CALENDAR
Because the United States is on vacation, central bank speakers have decided to bring forward their public appearances. The highlight was Cleveland Fed President Loretta Mester. At first, she said she didn't expect a recession. Ten minutes later, she admitted the risks for one were increasing.
There will be even more central bank speeches to enjoy when European Central Bank President Christine Lagarde addresses the European Parliament this evening. St Louis Fed President James Bullard also speaks.
For those not in the know, Bullard is best known as the original outlier of the Federal Reserve. He called for outsized rate hikes as early as October last year. At one point, he also voiced the public opinion that a 100 basis point rate hike was needed to temper inflation.
Here at home, it's all about the minutes of the Reserve Bank meeting for June – the one where they raised rates by 50 basis points. It will be interesting to see how Governor Philip Lowe and the board deal with the reality of full employment and runaway inflation.
GRAPHS
Today I thought we would look at three different views on the risk of a global recession. While all see some likelihood of a global slowdown, each of these charts blames the problem for a different reason. All of these charts are courtesy of the Macrobond Financial team and their H2 outlook.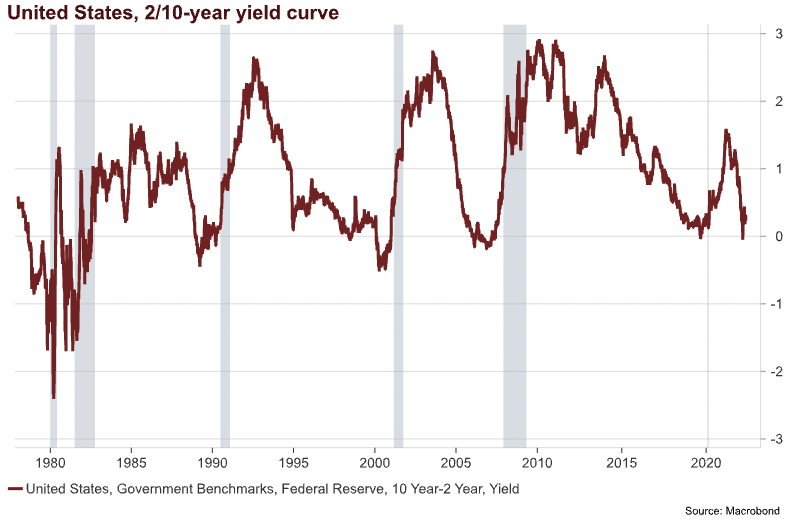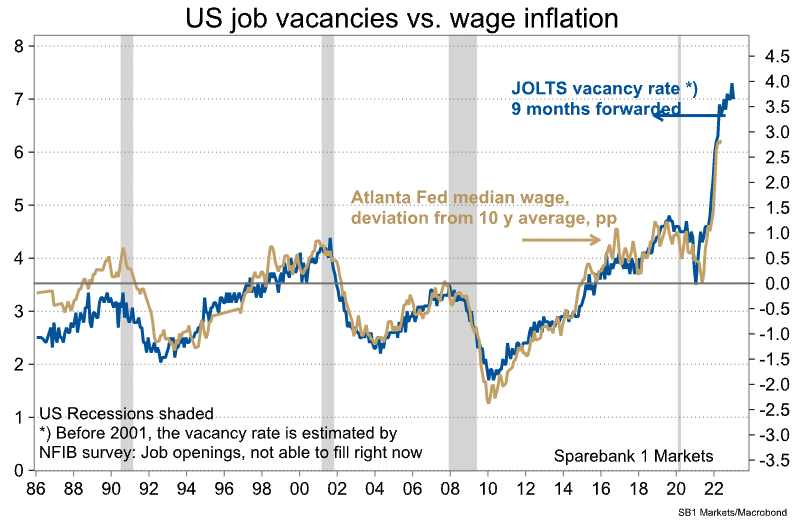 THE QUOTE
The only way for markets to recover quickly now is to avoid a recession for good. (David Bailin, Citi Global Wealth IT Director)
Linked to all the charts above, David had this quote in his weekend note. For me, it tells the whole story. His team raised the forecast for a US recession in 2023 to 40% from 35%.
STOCKS TO MONITOR
In today's stocks to watch, I thought I'd take a look at two stocks with milk in their pipelines – namely Bubs Australia (ASX:BUB) and Bega Cheese (ASX:BGA). While both companies have the right things at heart, each faces a different future.
Bega faces headwinds from cost pressures. Although agriculture has been a booming industry over the past six months (think Elders, Nufarm, Graincorp), Bega has the opposite problem. Costs are rising – and affecting everything from milk supply to packaging and transportation costs. Evan Karatzas of UBS also noted that the company recently increased its FY23 farmgate milk price for the third time. This year. He thinks the hike could add more than $200 million in costs. Unsurprisingly, the company was downgraded to neutral with a price target of $4.75.
For Broths, everything is looking up as he lands major contracts in the United States due to the shortage of baby formula in that country. Citi moved the company from a high-risk buy to a (regular) buy. In fact, the company is now the first choice in the small cap space for the broker. It also helps that the full year sales forecast was increased by a lazy 35%. Bell Potter is holding the business on hold – but speculative at best. He wants to see proof that he can penetrate the US market and develop consistent margins in the country.
BEST READS IN BUSINESS NEWS
Why Chinese stocks are worth a look in (Livewire): VanEck's Alice Shen tackles the markets' most controversial topic – whether China is investable or not. She argues that now is the time to reflect, but her thesis still deserves further study.
Why this Wall Street billionaire just bought an ASX (AFR) minnow: One of the co-founders of US options firm Susquehanna International Group just backed one of the most famous pump-and-dump stocks of the ASX. Why? It's a captivating read, to say the least.
Get the packaging
We're trying something new here – a daily market overview with a smart twist. If you enjoyed this edition, click on follow on my profile to know when I post new content and click on the As button so we know what you like to read.
If you have a graph and/or statistic that you would like to see featured in a future edition of the newsletter, send us a note at [email protected].