IBTM World 2021 brought the events industry together in Barcelona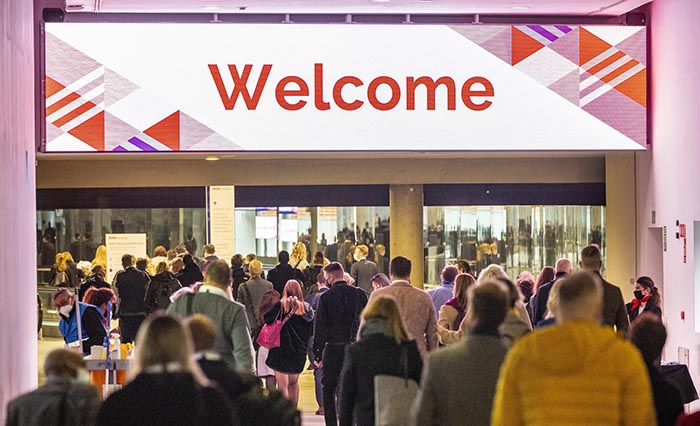 As the first face to face IBTM portfolio event that will take place in two years, IBTM World once again successfully brought together the global meetings, incentives, conferences and events industry in Barcelona, ​​Spain. From Nov. 30 to Dec. 30 2 to Barcelona Fairthe annual industry event attracted over 7,000 attendees, who took part in over 30,000 pre-scheduled one-on-one business meetings, as well as a host of quality networking and educational opportunities.
"It's been an incredibly rewarding three days, and it's been amazing to see people reconnect after so long apart," said IBTM World Event Director David Thompson. "For many this was perhaps the first event they have attended in two years, and it is fantastic that we have been able to play our part in bringing the industry together again."
He continued: "The whole team has worked exceptionally hard to make this event a success under quite difficult circumstances, and I am so proud of what we have achieved. Getting away from our screens and enjoying face-to-face interactions, inspiring training sessions and one-on-one business meetings has been wonderful.
More than 1,200 exhibiting companies from 70 countries attended IBTM's flagship trade show and conference, including CVBs from Germany, Dubai, Istanbul, Cyprus, Czech Republic, Lithuania, Hungary, Croatia and Norway, as well as Atout France, Meet in Ireland, Turespana Convention Bureau (Spain), Hilton, Titanic Hotels, Hyatt and GL Events. Many hailed the show as a positive experience.
"Having everyone here proves how much we wanted to get together for in-person events," said Nick Tinker, Director of Sales at Event Solutions, Cvent. "Also, the quality of meetings this year has been fantastic. Attendance was lower than previous editions, which is expected, but it allowed us to have better quality meetings, more time to build relationships and build new relationships. It also meant that buyers made an effort to speak with as many exhibitors and make the most of their presence. »
According to IBTM officials, of the more than 1,400 high-quality hosted buyers from 72 countries who attended the show, nearly half were completely new to IBTM's portfolio, representing more opportunities for exhibitors to find new prospects.
Delegates from renowned global agencies, corporations and associations were also in attendance, including HelmsBriscoe, HPN Global, First Incentive Travel, HPN Global–World, Citigroup Inc, Pfizer, Michelin and General Motors, to name a few. only a few.
In line with years past, innovative and targeted learning opportunities abounded at the show, including specially curated training tracks for association and corporate buyers, as well as sessions as part of IBTM Accelerate, which offered attendees an interactive experience showcasing solutions, applications and technologies on specific challenges in the meetings and events industry.
Designed to provide tangible learnings and innovative solutions to attendees in a post-pandemic world, a program of inspiring educational sessions under the theme "New Business, New Tech, New World" revolved around four topical themes (Trends and technology; gamification and engagement; the future of event planning; and professional and personal development) and were presented by expert speakers from the United Nations on Climate Change, LinkedIn, CrowdComms, VisitScotland, BBC Creative and more Again.
New to IBTM's educational programming this year was the Association Programme, created with the support of the European Society of Association Managers (ESAE); American Society of Association Executives (ASAE); African Society of Association Executives (AfSAE) and Asia-Pacific Federation of Association Organizations (APFAO), as well as the International Congress and Convention Association (ICCA). Designed to spark new ideas, encourage peer-to-peer learning and sharing of best practice, and help deliver tangible solutions to real-world issues facing the associations and events sector, the program has followed three main themes: inspiring , exchange and resolve.
Additionally, IBTM's Elite Corporate Program, supported by American Express Meetings & Events, explored key insights specifically focused on the needs of corporate hosted buyers, with topics including the future of experience meetings, restarting events and evaluating their success, and peer-to-peer learning and ideas.
On the first day of the show, the IBTM World Trend watch reportone of the industry's most comprehensive and in-depth studies of the future of meetings and events, was presented by Alistair Turner, Managing Director of EIGHT PR & Marketing, and addressed the key trends affecting the industry, from micro to macro, examining the differences between regions of the world and studying the role of vertical markets.
Inspirational speeches were also a big highlight of the event. In launching the program, digital transformation expert and serial entrepreneur Alba del Villa Olano encouraged attendees to take the fear out of digitalization and use it as a tool to increase the reach and impact of their events. On day two, Gian Power, Founder and CEO of TLC Lions, inspired attendees to use the power of storytelling to grow their business, while on day three, Dr. experience, explained how event planners can win through the power of experiences.
The highly anticipated Stand Awards returned to IBTM World this year with Discover Moscow taking home the award for Best Large Stand, Beon Worldwide winning the award for Best Small Stand and the Barcelona Convention Bureau receiving the award for Best Stand Staff.
IBTM's technology assets also exceeded expectations, with the IBTM World app celebrating its best year ever with over 3,600 downloads, over 142,000 page views and a 60% adoption rate among hosted buyers. Meanwhile, nearly 900 exhibitors representing 71% of all exhibitors have taken advantage of Emperia IBTM's digital business card exchange system, resulting in the exchange of 20,000 digital business cards.
All participants were required to complete a full range of health and safety guidelines and practices during the show, including showing proof of COVID-19 status to enter and wearing masks. As an added layer of security, hosted buyers received free medical insurance and all visitors were able to purchase PCR tests if needed.
As a complement to the in-person show in Barcelona, IBTM Online World will take place on December 14 and 15. Designed by Sector Global, the technology and event management agency that delivered IBTM World Virtual in 2020, the interactive platform will allow digital exhibitors, hosted buyers and visitors to network and do business with some of the leading suppliers, buyers and destinations of the world.
In addition to pre-event matchmaking, one-on-one video meetings between buyers and suppliers, enhanced exhibitor directories and an exhibitor zone, the digital trade show offers a comprehensive program of on-demand educational content, including the full program of IBTM World Barcelona knowledge comprised of over 65 sessions led by industry experts.
Additionally, hosted buyers will benefit from dedicated content tailored specifically for them with elements of the Association Program, Elite Corporate Program and IBTM Accelerate available on demand.
"We believe the best way to experience IBTM World is to be there in person, to maximize the many opportunities available at the live event, and to meet and connect with exhibitors and colleagues," said David Thompson, IBTM World Event Director. "However, we understand that some people may not be able to travel, particularly those coming from more distant destinations, so we have evolved our offer in line with the new business landscape to better meet the needs of all our customers. Combining online as part of the mix gives our community the ability to engage with new markets and provide additional flexibility and additional levels of engagement.
IBTM World will be back at Fira de Barcelona from November 29 to December 29. 1, 2022.
Don't miss any event news: Subscribe to our weekly e-newsletter HERE and engage with us on Twitter, Facebook, LinkedIn and instagram!