ISE Live & Online: 10 things to look forward to in Barcelona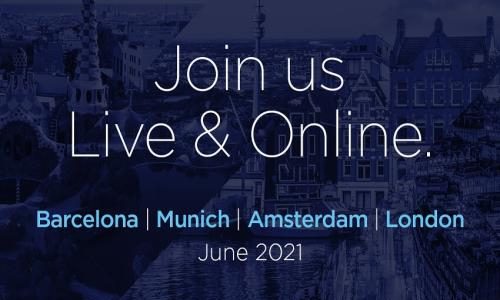 There are many reasons to look forward to ISE Live & Online which opens June 1-2. This will be the first physical ISE event since last February and it will be the first in-person event held this year at the Fira Barcelona Gran Vía.
Attendees can visit the Catalan Innovation Zone, AV Experience Zone and exhibitor booths, attend live keynotes, panel discussions and presentations from the ISE main stage, and take advantage of numerous networking and networking opportunities. to reconnect with the audiovisual community.
Here are 10 reasons to get excited:
10 reasons to be excited for ISE Live & Online
# 1: Leading the Way – A Roadmap to Success from the Main Stage (Living in Barcelona and online)
A fascinating program of live and digital content curated by exhibitors and partners from The Next Web (TNW), AVIXA, CEDIA and ISE to provide you with tools to emerge from the pandemic, mixing the live action from Barcelona with the ISE digital diary. https://www.iseurope.org/main-stage-programme/
# 2: AV Experience Zone in association with AVIXA (Living in Barcelona)
Watch presentations from AV integrators in Spanish on case studies, panel discussions, networking events, client testimonials and discussions on new trends. Here, professionals working in retail, business, education and hospitality will be able to experience the latest technologies and solutions provided by the audiovisual industry.
Places are limited – pre-registration required – http://avxzone.iseurope.org/registro.php
# 3: Catalan innovation zone in association with ACCIÓ (Living in Barcelona)
ACCIÓ, an agency of the Government of Catalonia promoting business competitiveness, hosts a dedicated area showcasing some of the region's leading businesses and technologies.
# 4: Exhibitor booths (Living in Barcelona)
Explore the ISE show with exhibiting brands such as Alfalite, Ampio, Barco, Equipson, ic audio, Infinitus, Jetbuilt, Lumotubo, Nexmosphere, UDE, Waapiti and West Telco.
# 5: Speakers in Spanish (Living in Barcelona)
" Digital transformation for tech-driven companies " with Marc Vidal June 1. Marc is considered one of the most influential figures in the Spanish digital economy and is a specialist in digital transformation and Industry 4.0.
'Long live retail' with Dr Maria Callis Bañeres June 2. The retail and design strategy specialist and president of the Retail Design Institute Spain will show why we need to move from "Omnichannel to Phygital Experience". The case studies will include IKEA, Barça and MADE.
# 6: Round tables of journalists (Living in Barcelona and online)
Broadcast live from the main stage, these animated panel discussions hosted by TNW include:
June 1st: 'Marketing tactics in an online world '. Rebecca Roth, social media specialist and imagery coordinator at NASA's Goddard Space Flight Center and Genia Shipova, director of marketing at Daily Motion, talk about digital marketing tactics.
June 2: 'What is your goal? Alice K. Steenland, Chief Sustainability Officer, Dassault Systèmes, is joined by other experts for this peer-to-peer knowledge exchange on how to position your brand and service in a post-pandemic world.
# 7: Start-up nation (Living in Barcelona and online)
ACCIÓ is teaming up with ISE and TNW to produce three Startup Nation sessions over two days on the main stage, highlighting future talent from Catalan start-ups from the smart cities, gaming and XR industries. A must for investors …
# 8: Catalan audiovisual cluster (Living in Barcelona)
The local audiovisual association will present three sessions on the main stage over the two days. Tuesday at 10:20 am, "Big Light Shows" will showcase the work of studios such as Moment Factory, Onionlab and Minoria Absoluta. The presentations in Spanish will be devoted to an update on audiovisual technology in Spanish universities (Wednesday 10:20 am) and recent achievements in the live events sector (Wednesday 10:40 am).
# 9: ISE Business Brokerage Service (Living in Barcelona and online)
Available to users through the ACCIO b2match app, the B2B Brokerage Services Planning Tool bridges the gap by connecting individuals and businesses with specific products or services.
Pre-scheduled 30-minute meetings can be held in person alongside ISE Live & Online Barcelona (June 1-2) or online (June 3-4).
Register for the ISE business brokerage service at https://ise-mwc-openchallenge2021.b2match.io/signup
#ten: ISE networking event (Living in Barcelona)
To wrap up the first day, please join us for an in-person networking event sponsored by ACCIO. Come and enjoy the shows of the Barcelona Cool Covers Band and celebrate your #BackToLive by meeting and connecting with the audiovisual community.
Visitors will also be able to watch highlights from the ISE Digital event (June 1 and 2), which will be shown on the main stage screens over the two days.
Join ISE as we look to the future as an industry. Registration is free, quick and easy – don't miss out – book your ticket now. Visit www.iseurope.org for all the latest information on COVID-19 security protocols at Fira de Barcelona.