ITMA returns to Barcelona in 2019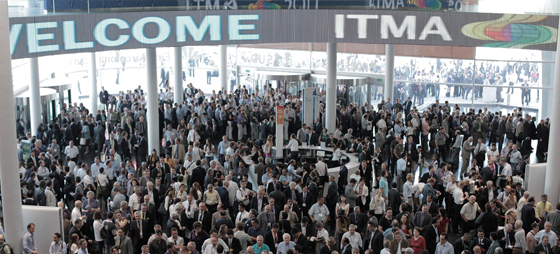 CEMATEX, the European Committee of Textile Machine Manufacturers, has announced that Spain will host the next, 18e edition of ITMA, the world's largest trade fair for textile and clothing machinery technology.
The exhibition will take place at the Fira de Barcelona exhibition center from June 20 to 26, 2019. "We are delighted to bring ITMA back to Barcelona. The selection process took us two years and our surveys on the nine potential sites and their services were very detailed, "explained Charles Beauduin, President of CEMATEX.
"We had an extremely successful fair in Barcelona in 2011 and our exhibitors and visitors were very impressed with the facilities and infrastructure on site. We are looking forward to another big event there in 2019. "
International mix of visitors
Fira de Barcelona won the international tender organized by CEMATEX, owner of ITMA and ITMA ASIA, after fierce competition from three other shortlisted candidates from an original list of nine venues.
When ITMA was last held in Barcelona in 2011, the number of visitors topped 100,000 from 138 countries. 90% of visitors came from outside Spain, and the international mix of visitors and buyers was very well received by exhibitors.
"We are delighted and honored to have been selected once again to host ITMA, and our team look forward to welcoming exhibitors and visitors to the city once again. We have gained a lot of experience working on the 2011 fair and are confident of having another very successful event ", commented Agustin Cordon, CEO of Fira de Barcelona.
ITMA Show
The European Committee of Textile Machine Manufacturers (CEMATEX) comprises national textile machine associations from Belgium, France, Germany, Italy, the Netherlands, Spain, Sweden, Switzerland and the United Kingdom. United. She owns ITMA and ITMA ASIA.
ITMA has been displaying the latest machines and software for every work process in textile manufacturing for 64 years. It takes place every four years in Europe.
Preparations for this year's ITMA in Milan, which runs from November 12 to 19, continue, with the participation of over 1,600 exhibitors from over 40 countries. More than 100,000 visitors from over 140 countries are expected to attend.
www.itma.com