La Salut, a Catalan-inspired wine bar by Love, Tilly Devine and Ragazzi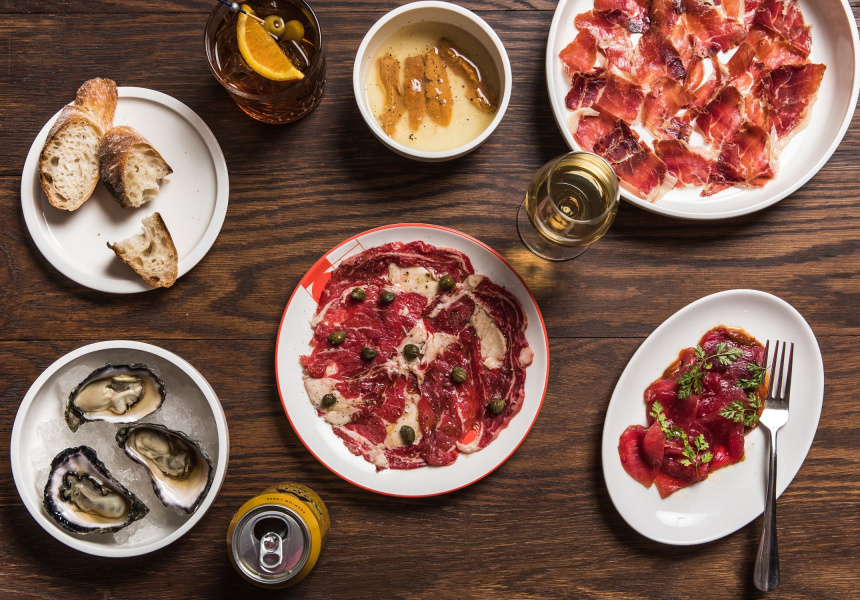 "The way we see it is love, Tilly Devine is our natural Australian wine bar, Dear Sainte Eloise is our French wine bar, and Ragazzi Wine and Pasta is our Italian wine establishment", Matt Swieboda, co-owner of the aforementioned three locations and Fabbrica of CBD with his business partner Nate Hatwell, recounts Large format. "Spain was the obvious next step."
Say "hola" to La Salut, a collaboration between Love Tilly Group and The People – a new hotel group that is rejuvenating pubs and adding hotel rooms to them. He recently renovated spirits including the Strand in Darlinghurst and the centennial Norfolk in Redfern. The 40-seat wine bar will open in the former Norfolk Sports Bar this spring.
La Salut is inspired by the wine bars of the Barcelona suburb of the same name – an executive chef and part-owner of the region that Scott McComas-Williams (also Ragazzi and Fabbrica) knew well when he worked in the Catalan town. Chefs will prepare neck-and-neck snacks with bartenders pouring vermouth and natural wine behind a central bar.
The star snack? Lightly marinated mussels, brackish olives, guindilla (green pepper), salted crisps and homemade spicy sauce. It's a tribute to a dish McComas-Williams fell in love with at Morro Fi – a no-frills vermouth and tapas bar in Barcelona.
"Hats off for one of those life-changing moments of hospitality," said McComas-Williams. Large format. "I will never forget the moment I first walked into the Morro Fi vermouth bar. Bettors spill out into the streets, sipping vermouth with olives and a splash of soda or beer cañas – or both at the same time – while eating some of the bar's tastiest snacks, prepared by the bartender who pours your drink. It's an ode to the fact that a dish can be greater than the sum of its parts.
Other dishes are what McComas Williams describes as "simple Catalan cuisine on one plate with no problems" – food that doesn't rely on "superfluous toppings" or fancy dishes. Expect a sea urchin with ajo blanco (a white soup of bread, almonds and garlic served cold), washed down with a clarified gazpacho; Catalan butifarra sausage, homemade and garnished with clams and beans; and jamon iberico, who makes a great drinking buddy.
As you would expect from the team behind Love, Tilly Devine, who helped foster Sydney's love for natural wine, the wine list is a major focus. Swieboda will promote natural Spanish wines, including a pet-nat from cult winemaker Nuria Renom; drops aged in underground amphorae; and bottles from the Canary Islands, whose soils have a volcanic quality similar to that of the Etna region of Sicily.
"We feel [Spain's] the natural wine movement is still massively underestimated, especially in this city, "explains Swieboda. "As a concept of cooking, it's the closest to Tilly in a way. All the food is done in front of the customers; there is no kitchen per se. But what Scott has achieved from space is nothing short of amazing. People will be able to come for snacks, but we think most will want to stay for the entire experience. It is really impressive.
"Andrew and I are intrigued by Matt and Nathanial and the brands they've built for a long time," said Paul Schulte, co-founder of The People. Large format. "The opening of Fabricca, and seeing how this brand worked in a small space, was really the catalyst for the early days of this partnership. There will also be plenty of crossovers between the sites, so clients in Norfolk and La Salut can access the best of both.
The group will also operate a small bottle store in Norfolk called Bottles. Bettors can buy bottles of Australian or international wine to take away or drink from the pub. And when six bedrooms open above the Norfolk at the bottom of the track, the team at La Salut will offer in-room dining.
Salvation is expected to open in the spring.
@barlasalut
barsalut.com