M. Kebab Mediterranean Cuisine | Culture & Leisure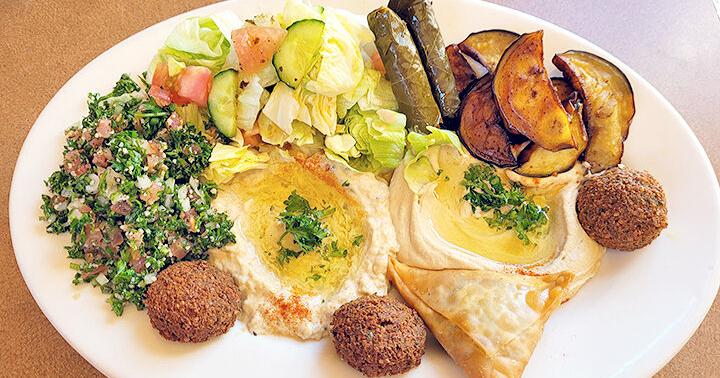 A meal I once had at a Palestinian restaurant in Jerusalem was the catalyst for my lifelong interest in Middle Eastern cuisine. It was called Maqluba and consisted of layers of chicken, rice and stir-fried vegetables prepared in a casserole dish with an array of spices and broken vermicelli.
When finished cooking, and to the rhythm of beating drums, it was brought to the table, overturned on a large platter and the pot was slowly removed to leave a multi-layered culinary tower in its wake – a beautiful presentation that was deeply delicious too.
Not that you'll find this dish in local Middle Eastern restaurants, but Mr. Kebab, owned by a father and son duo from Syria, offers a range of items you're likely to find if you visit the big center. Is.
We started with hommus with meat. Hommus is made from mashed chickpeas to which Tahini (sesame paste), lemon juice and garlic are added. The end result is a creamy dip that is ubiquitous throughout the Middle East. The beef is minced, then sautéed with spices and sprinkled with slivered almonds, surrounded by a ring of hommus.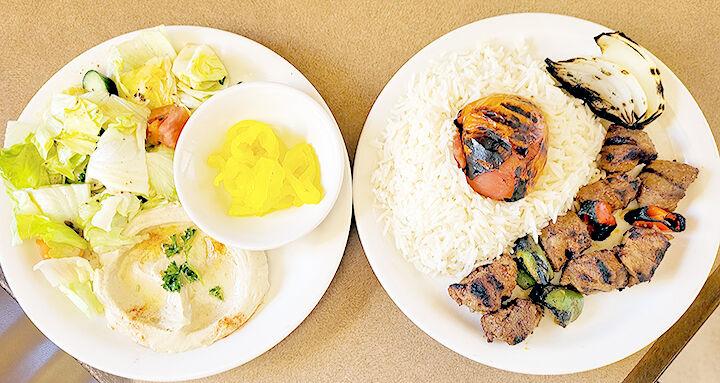 Their red lentil soup makes a hearty starter for a cold winter day. It is extremely hearty and has flavors and aromas of cumin, turmeric and saffron, and has a hue of chartreuse.
Mutabal, like hommus, is a dish just waiting to be washed down with pita bread. It consists of grilled eggplant mashed and tossed with tahini and lemon with a healthy helping of olive oil drizzled on top with a sprinkle of paprika.
Mutabal is similar in its basic ingredients to Baba ghanoush, which also incorporates diced tomatoes, pomegranate molasses, and herbs like mint and parsley into the mix.
The Kafta sandwich consists of two cigar-shaped cylinders of grilled ground beef wrapped in a huge piece of pita bread that prevents the contents from spilling out when you bite into it. In addition to the meat, there is also hummus, tahini, lettuce and tomatoes in the filling.
You can also try the classic shawarma sandwich or a plate made with beef or chicken. (Plates come with hummus, rice, and salad.) Shawarma consists of thinly sliced ​​raw beef or chicken stacked in a cone shape on a vertical spit that slowly rotates around a heat source.
The finished roasted product is then sliced ​​on a spit.
We also opted for the lamb kebab plate with five to six large pieces of succulent grilled lamb accompanied by hommus, a salad tossed with olive oil and lemon juice and a mountain of white rice accompanied by a grilled onion, a grilled tomato and minced peppers.
Even after talking about an array of meats, vegetarians should still rejoice.
You can opt for the falafel (refried garbanzo bean patties) with hommus and salad, or go whole "non-pork" and order the vegetarian plate including not only the falafel but also the hommus, tabbouli (a salad of parsley, tomato, onions, bulgur, lemon juice, olive oil and mint), mutabal, grape leaves stuffed with rice, fried eggplant slices, vegetarian sambousa (fried puff pastry stuffed with vegetables) and a salad. Quite a feast!
They also offer a food service so you can order a whole lamb and other Syrian delicacies, and if you play your culinary cards right, maybe even the aforementioned maqluba.
Mr Kebab
Where: 11201 California St., Suite A, Redlands.
Opening hours: 11 a.m. to 8:30 p.m. Monday to Saturday.
Price: Entrees $5.25 to $14.75, salads $6.75 to $8.50, sandwiches $7.99 to $8.85, plates $12.50 to $20.85.
Details: The family plate for five people costs $110.75 and includes salad, hommus, tabbouleh, rice, falafel and 10 meat skewers: two beef, five kafta and three shish tawouk. Catering and online ordering available.
For more information, visit mrkebabrestaurant.com or call (909) 335-8881.