The first edition of Seafood Expo Global / Seafood Processing Global in Barcelona is so far larger than all previous editions of the global event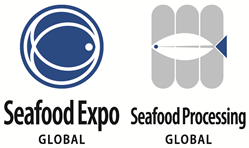 We are delighted to see that our first global event in Barcelona is generating strong interest within the industry. To date, we have already received contracts for the 2022 edition, representing an exhibition space larger than all editions of Seafood Expo Global / Seafood Processing Global …
PORTLAND, Maine (PRWEB)
November 24, 2021
Diversified Communications, organizer of Seafood Expo Global / Seafood Processing Global, has announced that the 28th edition of the event, which will take place for the first time in Barcelona, ​​is so far larger than all previous editions of the world's largest fair seafood. Five months before the 2022 edition, the organization has already sold 41,985 square meters of exhibition space, an increase of 3.3% compared to 2019, the largest edition since his creation.
The Barcelona edition, which will take place from April 26-28, 2022, is set to become the largest Seafood Expo Global / Seafood Processing Global ever and will reignite global face-to-face industry events. The Expo will take place in halls 2, 3, 4, 5 and the Galleria between halls 4 and 5 at the Fira de Barcelona.
"We are delighted to see that our first global event in Barcelona is generating strong interest within the industry. To date, we have already received contracts for the 2022 edition representing an exhibition space larger than all editions of Seafood Expo Global / Seafood Processing Global, and it is growing every day, "said Wynter Courmont, Director of the event, Diversified Communications. "With five months remaining in the sales cycle, we look forward to having a successful first edition in the beautiful city of Barcelona and bringing our global audience to Fira de Barcelona, ​​as well as developing special events for deliver an enhanced on-site experience with a comprehensive conference program and the Seafood Excellence Global Awards, "added Courmont.
Seafood Expo Global / Seafood Processing Global is the world's largest and most diverse seafood trade event, bringing together over 29,000 industry professionals from around the world and over 2,000 exhibiting companies from 89 countries.
"In 2022, we understand that the situation with COVID-19 can be volatile and that businesses, depending on their location, could face travel restrictions. We are working closely with Fira de Barcelona and the city to ensure that we can host a valuable in-person event that will bring back the representation that makes Seafood Expo Global / Seafood Processing Global the global seafood market and trade event most comprehensive in the world, "said Liz Plizga, group vice president, Diversified Communications.
A growing list of exhibiting companies …

Seafood companies that have already registered for Seafood Expo Global / Seafood Processing Global 2022 include Aquachile, Balfego & Balfego, Cermaq Norway AS, Confremar-Congelados y Frescos del Mar SA, Cornelis Vrolijk BV, Crusta C, Denholm Seafoods Ltd, Direct Ocean, Fiorital, Fisherman's Choice, Frime SAU, Grupo Iberica de Congelados, Grupo Profand, Hofseth International, Iceland Seafood International, Irvin & Johnson, J Marr Seafoods Ltd, Krustagroup SA, Leroy Seafood AS, Macduff Shellfish, Mascato SA, Mercamadrid, Morubel NV, Mowi ASA, Nordic Seafood A / S, Parlevliet & Van der Plas BV, Pelagia AS, Pescanova España, Royal Greenland A / S, Seafood Connection BV, Samherji HF, Sea Harvest Corporation, Sjor AS, True North Seafood Inc, Ulysses, Vichiunai Europe NV and the Zalmhuys Group. Adriatic Sea International, Baader, Cocci Luciano, FoodTech Belgium, Marel, Multivac, Palinox and Saeplast, are some of the companies representing equipment and processing. Other exhibiting companies can be found on the event website.
National and regional flags of Argentina, Bangladesh, Belgium, Canada, Chile, China, Croatia, Denmark, Ecuador, Estonia, Faroe Islands, Finland, France, Greece, Iceland, India, Ireland, Italy, Japan, Latvia, Malaysia, Maldives , Mauritius, Morocco, the Netherlands, Norway, Peru, the Philippines, Poland, Portugal, Russia, Scotland, South Korea, Spain, Sri Lanka, Taiwan, Tunisia , Turkey, Uruguay, the United States, Vietnam and Wales, have also confirmed their participation in Barcelona. editing.
Seafood Expo Global / Seafood Processing Global brings together all the key players (suppliers, buyers, government, distributors, manufacturers and services) of the seafood sector from all over the world. Seafood Expo Global showcases seafood suppliers showcasing their latest seafood – fresh, frozen, canned, value-added, processed and packaged – to global seafood buyers including supermarkets, restaurants, hotels, catering services, importers, distributors, seafood markets and other retailers and catering businesses. Seafood Processing Global highlights all aspects of seafood processing including packaging materials and equipment, refrigeration and freezing equipment and supplies, primary processing equipment, secondary processing equipment, hygiene control and sanitation services and quality assurance.
For more information on Seafood Expo Global / Seafood Processing Global, visit: http://www.seafoodexpo.com/global.
About Seafood Expo Global and Seafood Processing Global

Seafood Expo Global and Seafood Processing Global form the world's largest seafood trade fair. Thousands of buyers and suppliers from all over the world attend the annual three-day exhibition to meet, network and do business. Buyers in attendance represent importers, exporters, wholesalers, restaurants, supermarkets, hotels and other retail and catering businesses. The exhibiting suppliers offer the latest seafood, processing and packaging equipment and services available in the seafood market. SeafoodSource.com is the official medium of the exhibition. The exhibition is produced by Diversified Communications, the international leader in seafood industry exhibitions and media. Http://www.seafoodexpo.com/global
About diversified communications

Diversified Communications is a leading international media company with a portfolio of face-to-face exhibitions and conferences, online communities, and digital and print publications. As producers of these market-leading products, Diversified Communications connects, educates and strengthens business communities in more than 15 industries, including: food and beverage, healthcare, natural and organic products, business management and technology. The Company's global seafood exhibition and media portfolio includes Seafood Expo North America / Seafood Processing North America, Seafood Expo Global / Seafood Processing Global, Seafood Expo Asia and SeafoodSource.com. Founded in 1949 and headquartered in Portland, Maine, USA, with divisions and offices around the world, Diversified Communications remains a private, third-generation family business. For more information visit: http://www.divcom.com
# # #
Media contact:
LLYC

Laia Jardí / Mireia González

[email protected] / [email protected]

+34 628 673 970
Christine pedersen

Marketing director

Diversified communications

[email protected]